Having a dull day? Maybe it's time for a fun game! This time, we're going to present you with an optical illusion. Below, there is a vintage picture of a dog. Hidden in the photo, however, is also an image of the dog's owner. Let's see if you can find them.
Advertisement
Optical illusions are so much fun. They not only test your visual acuity, but they also test your brain. These kinds of games test your ability to see something from another point of view. In order to solve them, you need to put aside the image of what you first saw in order to pick up on the subtle details that will allow you to see something else there.
Advertisement
Check out the photo below. It seems innocent enough – just an old, vintage-style photo of a sleeping dog. He's nicely curled up, snoozing away.
Advertisement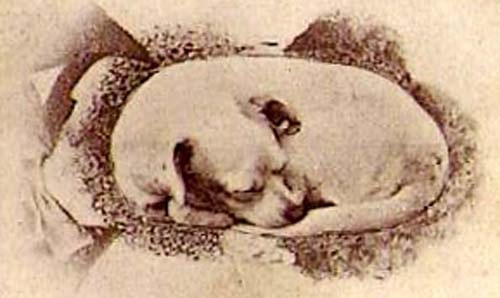 Hidden in this photo, however, is also an image of this dog's owner. Have a closer look and see if you can look at this photo through a different lens – a different point of view. Can you find the dog's owner?
Advertisement
The Solution
I'll admit, this one is hard. I struggled for a really long time to find the human being in this image. Before you give up, we suggest looking at it from a different perspective. Try turning the photo in different ways to get a different reference point.
Advertisement
Are you still having trouble? Don't worry – we'll help you out. Have a look at the image below and see if you can figure it out now.
Advertisement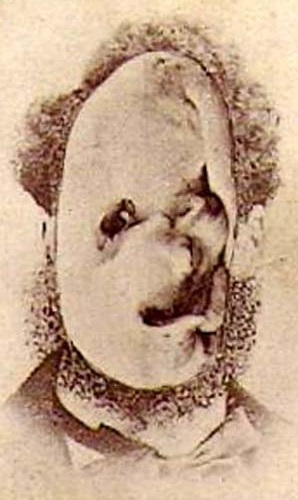 Can you see it now? Here, we'll give you some hints:
Advertisement
The bottom part of the photo is the person's neck. It appears as though he is wearing a suit with a bow-tie.
The shadowing around what was the dog is a frizzy little beard
The shadowy curve where the dog's head is cradled into his leg/paw is the mouth
The dog's left (our right) ear is the person's eye
Yes, the face is somewhat distorted. Still, however, there is a human being hidden in the photo! Were you able to find it without any help?
Advertisement
More Games
Now that you've got your eyes and brain warmed up to optical illusions, why stop now? The more you practice them the better you will get. Doing these kinds of games is also really good for the health of your brain, so why not give more a go? Check out the list below to keep testing your skills.
Advertisement
Don't forget to share this with your friends and family so they can take part in the fun, too.
Advertisement