Fashion has always been one of the greatest phenomena known to civilization. There is a lot one can benefit from appropriate fashion. Not only for the function of keeping you cool in hot weather, or warming up when it's cold. It is used to express one's identity, but it can also express an alter ego – depending on your mood. Most people expect a woman beneath a skirt, but it seems one may encounter more men wearing skirts as society's expectations start to lower – for the good!
Fashion has evolved, and so have we!
It seems that more and more men are deciding to wear skirts. Yes, out in public! This development can be thanked to the evolution of fashion. But, most of all, it is the breaking down of society's expectations. There are some men who have been paving the way for the rest of the male species. These brave men are curbing the way we perceive fashion. And the norms of society are simply going to have to accept it.

Europe is currently undergoing some serious heat waves. The blistering heat was enough to get A-Lister Brad Pitt to spice up his wardrobe a bit. He made an appearance at the premier in Berlin for his latest movie, "Bullet Train". The ensemble was completed with an oh-so-casual linen shirt and jacket, with combat boots and sunglasses. When he was asked about his choice of outfit, he said he chose it for "the breeze."
Advertisement
This is not the first time that Brad has worn a skirt. The previous time was while he was filming "Troy". He believed that he was starting a trend. "Men will be wearing skirts by next summer. That's my prediction and proclamation," said Brad with certainty. It has been about 18 years since that statement was made, but it doe seem that skirt-wearing concept for men is becoming less terrifying for them.
Advertisement
More men in skirts
Pete Davidson wore a skirt to the 2021 met gala. His choice was noticed by all, so he definitely stood out amongst the rest of the men in standard tuxedos. His skirt was black and had a straight cut. This made it reminiscent to a pencil skirt. He styled it with a slightly oversized white blazer with black lining around the collar. Beneath that he wore a button-down white shirt with a black bow-tie and a black sweater. The outfit was complete with black boots and socks.
Advertisement
Read: Abandoned By Parents, She Vowed To Prove Them Wrong – Today, She Models For Vogue
Advertisement
Then, it seems as if Pete did start a trend, because the next year Oscar Isaac did something similar. the 2022 Met Gala saw Isaac showing off a skirt that was tailored to fit by Thom Browne. This designer is well known for creating the perfect man skirt. His reputation precedes him, because Oscar looked great!
Advertisement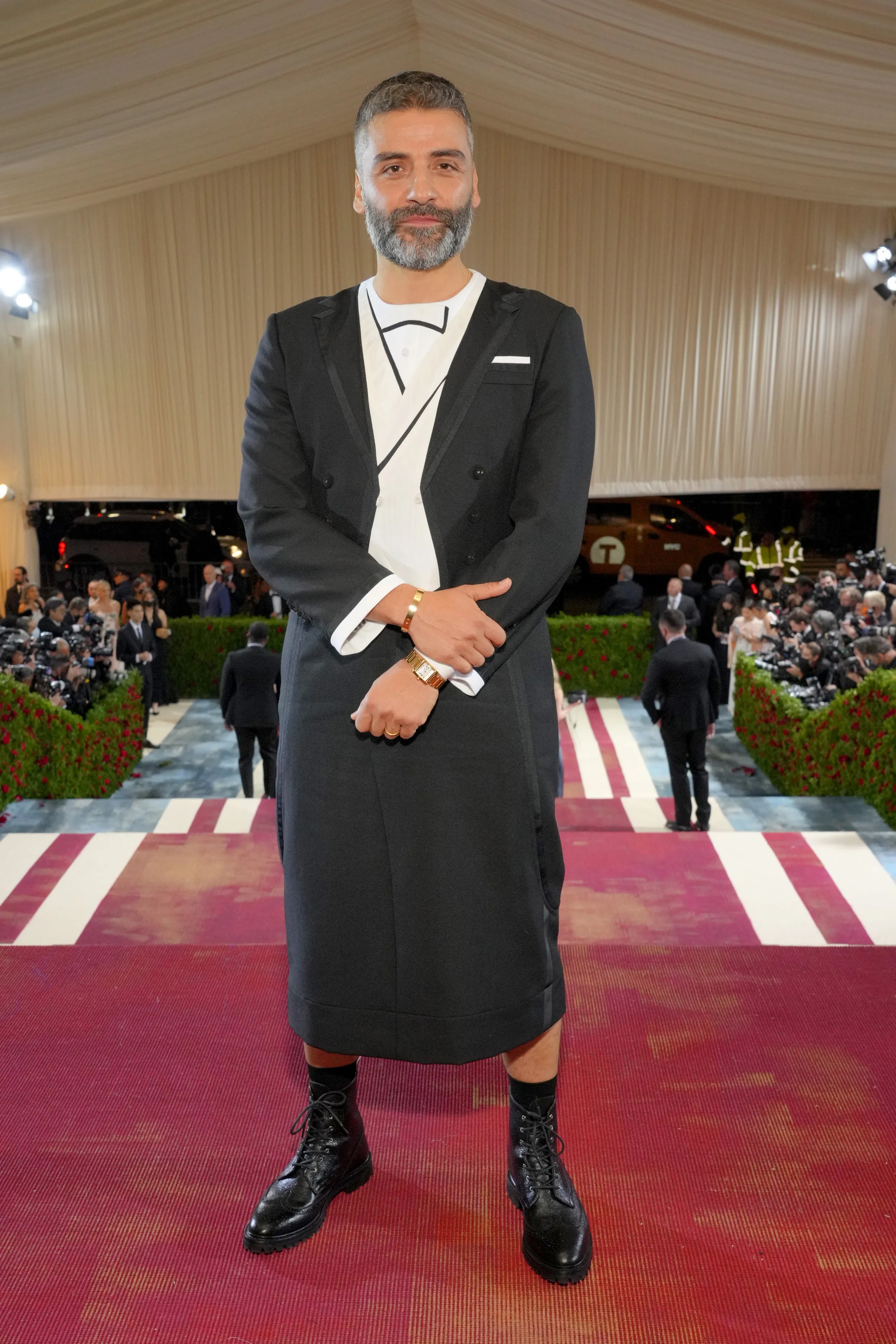 His choice of outfit included a black skirt that was slightly longer than Pete's. It also had a bit more flow to it. He paired it with a black slim-fit jacket and a white waistcoat over a white shirt. He also decided to dress it down with a pair of black combat boots.
Advertisement
And some more
NBA fans will appreciate this one. Russel Westbrook decided that he wanted to breeze up his outfit choice. With other men having garnered so much attention, why should his skirt outfit be such a shocker, right? Russel's choice of skirt was a white one with some flow to it. It gave the impression of being a Scottish kilt, yet it looks more regal than anything else.
Advertisement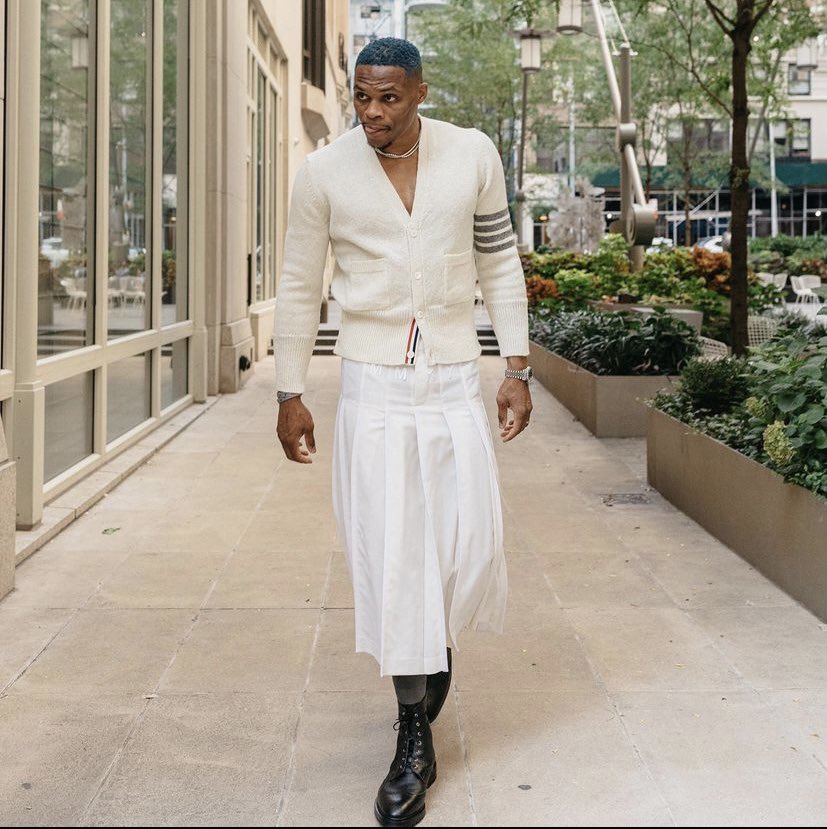 Russel modeled his skirts in the streets, pairing it with an off-white cardigan, which gave it that casual appeal. Lastly, he added a pair of black combat boots to give it that rugged affect.

Another great example of men wearing skirts is Kid Cudi. He has been seen in a number of skirts, including a black ballroom skirt. In 2021, Kid Cudi wore a white floral dress while performing on the SNL stage
Advertisement
The internet exploded when they saw Kid Kudi flaunting his flow. Reportedly, it was in honor of Kurt Cobain. Many comments were available to read. @GOTHAMCAIN said: "They're both breaking stereotypes anyways…"

Keep Reading: 20 Photos That Explain Why 70s Men's Fashion Should Never Make a Comeback
Advertisement
Sources
"Men, Wear a Skirt!" Jezebel. Ezinne Ukoha. July 21, 2022.
"More Men Are Wearing Skirts And We're Here For It." Vice. Romano Santos. September 6,2021.