Imagine you grew up poor and struggled all your life, only to as an adult find out you are the heir to an opulent estate in the countryside. Though this may sound like the plot of a Disney film or Hallmark Holiday movie, it is a true story. In 2019, a man in England inherited an estate worth £50 million (more than $68 million) after a DNA test proved he was the rightful heir. (1)
Advertisement
Man Uses DNA Test To Prove He Is The Rightful Heir to £50 Million Estate
At 31 years old, Jordan Adlard Rogers inherited Penrose Manor, the Rogers family Cornish estate valued at £50 million. A former care worker who struggled most of his life, this is quite the lifestyle change. He inherited the grand estate after he was finally able to obtain a DNA test to prove that the late Charles Rogers is his biological father. (2)
Advertisement
You see, Jordan is Charles's illegitimate son, conceived during a fling Charles had in the 80s with his mother. Jordan's childhood, though his mother loved him very much, was not easy. They didn't have much money and moved around a lot. There were several "father figures" who came but never stuck around. Many of them turned violent. For five years they lived with a traveling community. He was usually underfed, cold, and without access to proper hygiene – not to mention a proper education.
Advertisement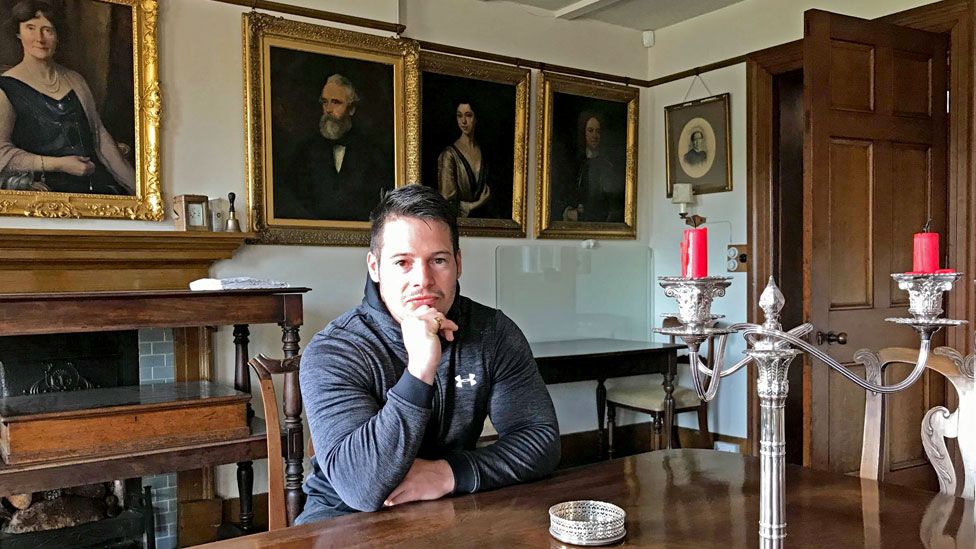 The DNA Test To Prove Everything
He'd seen photos of Charles Rogers and it couldn't be denied that the resemblance was uncanny. Apparently, Charles agreed to a DNA test when Jordan was eight, but it never came to fruition. Jordan returned and requested one when he was 18, but that didn't work out either.
Advertisement
"He offered to do a DNA test when I was younger but it didn't happen, and then when I was 18 I knocked on his door and asked if I could have the test and he told me to do it through the solicitors. I was 18 so had other priorities at the time," He explained. "I wrote more letters in my twenties but never got a reply, then three years ago I got in contact with power of attorney Philip Care. Philip said Charles didn't want to do the test so I wrote one final letter with a DNA test kit enclosed and that was when Philip rang and told me Charles was dead."
Despite some difficult family members, Jordan was finally able to complete the DNA test. The results proved what he knew to be true all along: That Charles Rogers was his biological father. They almost meant that this illegitimate son was the legitimate heir to the Rogers family estate. (3)
Advertisement
Read: Yard-Sale Bowl Revealed To Be Rare Artifact Worth Up To $500,000
Advertisement
Almost A Dream Come True
Naturally, this has been a big upgrade for someone who grew up living off of scraps and spent most of his life living paycheck to paycheck. He would give it all up, though, for his father to know that he is his son. Charles Rogers battled drug addiction for many years and ultimately died of an overdose on prescription medications sitting inside his car outside of his home. Jordan says that maybe knowing that he had a son might have helped motivate Charles to lead a better life.
Advertisement
"People say I'm lucky but I would trade anything to be able to go back and for Charles to know I was his son. Maybe then he might have taken a different path." he said.
For Jordan, too, he thinks even just knowing for sure who his father was while he was growing up may have helped him. One of the first things he noticed when he walked into the main home of his new estate was a giant painting of his late father up on the wall. It was like staring at a painting of himself.
Advertisement
"If I'd seen that portrait 20 years ago, my life would have been so different. I'd have known who my father was and where I came from. I wouldn't have spent over half my life wondering who I was, feeling only half a person. Now I know I belong. I'm no longer a dirty secret." he explained.
His Inheritance
The Rogers family gifted the Penrose estate to the National Trust in 1974 in exchange for a 1000-year lease to live there. The home is valued at just over $68 million, not to mention the fine china, swords, and other items inside the home also valued at millions. The person who lives inside the home also receives a trust fund of £100,000 ($171,370) per year. Jordan, nor his wife Katie, will ever have to work again.
Advertisement
The couple, who will live there with their young child, already have plans to update the house. These include redoing the kitchen, which hasn't been updated since the 1960s and adding a games room/home theatre where Jordan can watch his favorite sports. Lastly, he wants to set up a charity for the communities surrounding the estate. He wants to help others so they won't suffer the same way he did.
Advertisement
Keep Reading: True Solidarity: Homeless Man Starts Company, Becomes Rich and Hires Only Other Homeless People
Sources
"Jordan Adlard Rogers inherits Penrose Estate after DNA test."BBC. May 21, 2019.
"The illegitimate son of an aristocrat raised in gypsy caravans who underwent a nailbiting DNA battle in search of his true parentage reveals the astounding moment he found out he was to the £50MILLION manor born." Daily Mail. Tessa Cunningham. May 24, 2019.
"Care worker inherits £50m stately home after DNA test proves he is illegitimate son of aristocratic owner." Independent. samuel Osborne. May 21, 2019.