If any of you tend to live under rocks, and there are a lot of you, you might not know that Keanu Reeves is mostly famous for his role in The Matrix and John Wick. These days you are hard-pressed to hear anything negative about Keanu, in fact, he's a downright saint when it comes to Hollywood actors. He has continuously gone out of his way to be such a great person to his fans, and here's his latest good deed.
Wholesome Celebrities Exist in the Form of Keanu Reeves
As mentioned Keanu Reeves is such an outstanding person, being in Hollywood or otherwise. He is down-to-earth, and he gives the impression that he chooses to think before acting, and before he speaks. Not many of us non-celebrities can say the same, so there is yet another reason to look up to this actor. He even took his mother as his date to the 2020 Academy awards, I mean, how much better can you get?

There might be a few reasons that make Keanu Reeves stand out, like his dashing good looks (that smile! Those eyes!), his acting skills and great taste in scripts, the fact that his mother is a choice for a date to an important night of his career. But, what about his sweet and simple love of the slow life, his grounded characteristics, and not to mention, the fact that he connects with people on a human level. No fan is too old in Keanu's eyes, and he decided to give a phone call to an 80-year-old woman (a huge fan). He did this just to make her happy, so he is willing to take time out of his day to bring happiness to the elderly too!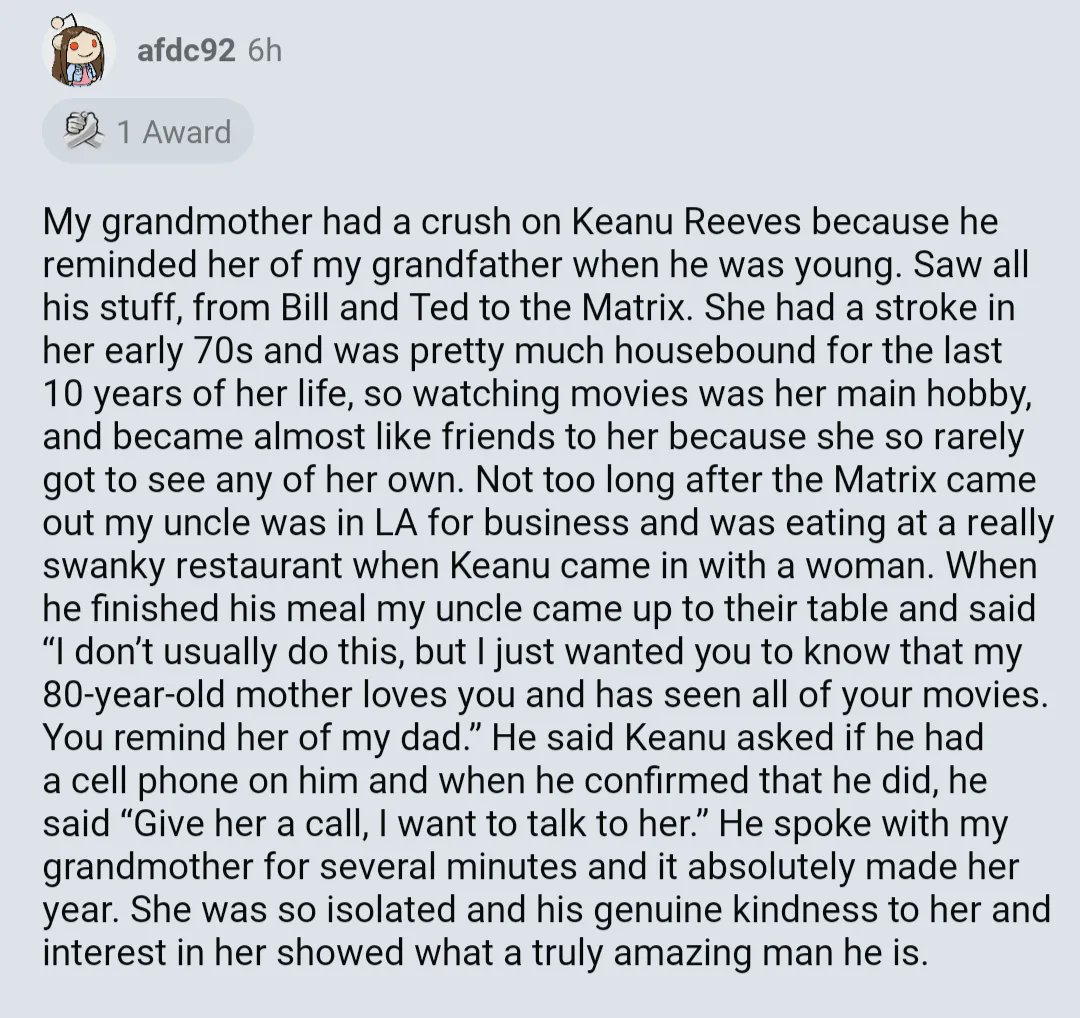 Granddaughter of the 80-Year-Old Fan Shared Her Version of the Story
"My grandmother had a crush on Keanu Reeves because he reminded her of my grandfather when he was young. Saw all his stuff, from Bill and Ted to the Matrix. She had a stroke in her early 70s and was pretty much housebound for the last 10 years of her life, so watching movies was her main hobby, and became almost like friends to her because she so rarely got to see any of her own."

"Not too long after the Matrix came out my uncle was in LA for business and was eating at a swanky restaurant when Keanu Reeves came in with a woman."

"When he finished his meal my uncle came up to their table and said 'I don't usually do this, but I just wanted you to know that my 80-year-old mother loves you and has seen all of your movies. You remind her of my dad.'"

"He said Keanu asked if he had a cell phone on him and when he confirmed that he did, he said 'Give her a call, I want to talk to her.' He spoke with my grandmother for several minutes and it made her year. She was so isolated and his genuine kindness to her and interest in her showed what a truly amazing man he is."
Sometimes all we need is gentle and heart-warming acts of kindness. The world would be a much better place if we had more Keanu Reeves in it, and occasionally all that is needed is a phone call. 
Keep Reading: Keanu Reeves Does Not Wear Branded Clothes or Live in a Mansion, but He Donates His Money to the Needy
Sources
"what's something a famous person has done that just completely changed how you viewed them?" Reddit. March 6, 2022.
"Keanu Reeves called someone's Grandma just because he heard she was a superfan." Audacy