It is easy to get swept up in life and forget where you come from. But this young woman did not forget her roots. She instead played tribute to her parents by having the most beautiful graduation pics taken in their place of work, a field. This was to show that hard work pays off and to never forget where you come from.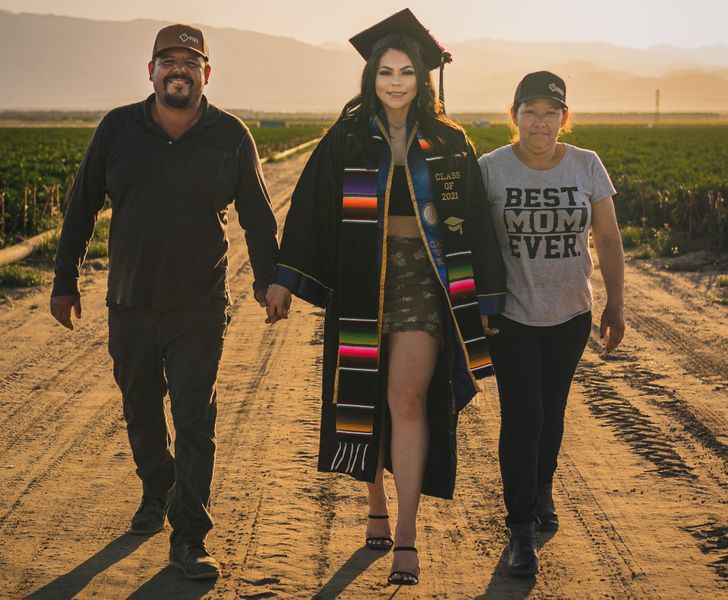 Jennifer Rocha is not like most girls. A Daughter of Mexican migrant farmworkers, neither of her parents had the chance at Tertiary education. They decided to teach Jennifer to work hard by having her work in the fields from a young age. The very fields she would one day have her graduation pics taken in!
Hard Work Pays Off
During her high school and college years, Jennifer planted strawberries with her mother and father every day from 6 pm to 3 am. She would hardly sleep before school would start. Yet, Jennifer never complained or got lazy. She worked hard.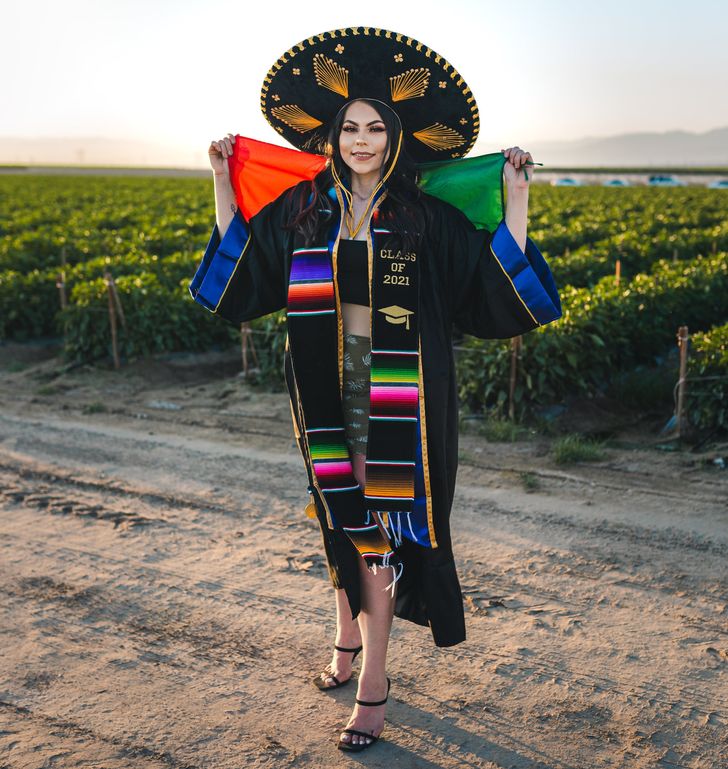 "I would get out of cross-country practice at around 2 p.m. and then my dad would pick me up and I would get home, change, eat something and then go right to work overnight. Because, during that time we were planting strawberries overnight." The whole family would get home sometime between 2 and 3 a.m. Giving her enough time to "shower, nap and then wake up like around 5:30 a.m. Then to get ready for school because I had to catch the city bus or else I was going to miss it."

Jennifer Rocha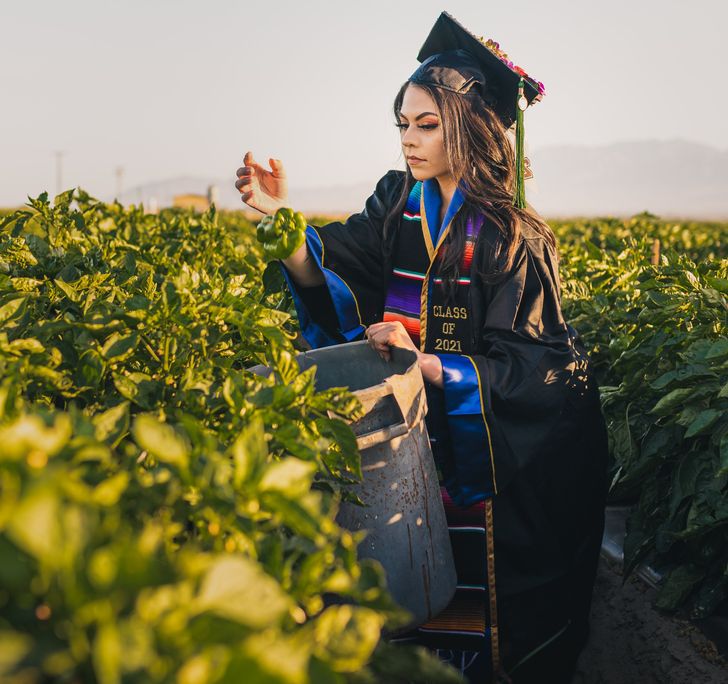 Jennifer graduated from the University of California, San Diego on June 13th. And like most college graduates, she wanted graduation pics taken.

Read: From 12-year-old meth addict to honors college scholar: The redemption of Ginny Burton
Graduation Pics
Jennifer did not want just any ordinary photos taken, she chose instead to have her graduation pics taken in the fields her parents worked in.
"I'm proud that that's where I come from, It's a huge part of who I am. The whole reason I wanted to go back to the fields with my parents is because I wouldn't have the degree and the diploma if it wasn't for them. They sacrificed their backs, their sweat, their early mornings, late afternoons, working cold winters, hot summers just to give me and my sisters an education."

Jennifer Rocha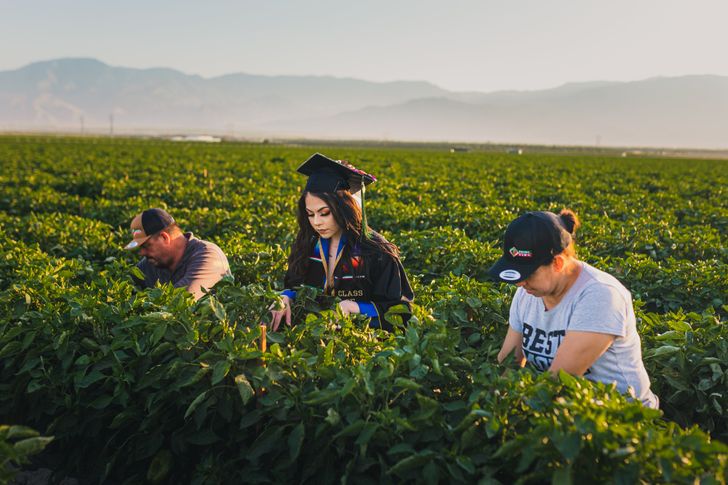 Read: This teen with special needs visited his late mother's grave to tell her "I did it. I graduated"

Jennifer knew that her parents were the only reason she and her siblings got as far as they did, and she hoped that the graduation pics would make them even more proud of the woman she had become. She also hopes that the photographs will inspire others.
"Through drops of sweat, tears, back aches, they were able to get their three daughters through college. They deserve all the recognition in the world and for them to be an inspiration to other immigrant parents in the same circumstance as they are that it is not impossible for their kids to chase their dreams."

Jennifer Rocha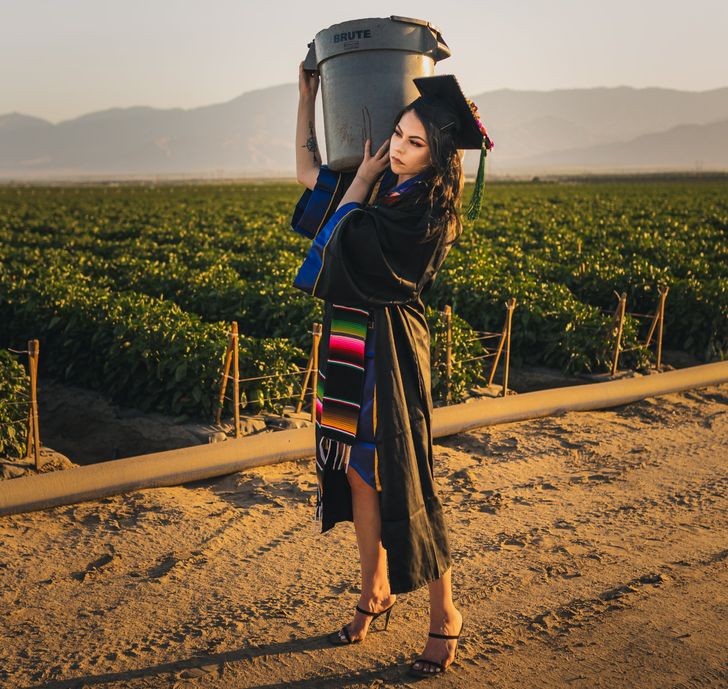 Opening Eyes
Hard work pays off, and Jennifer's graduation pics really do prove that. But that is not all she wanted to shed light on.
"Farmworkers do not deserve to be paid minimum wage. They worked throughout the whole pandemic risking their health and risking the health of their families. Not knowing if they would come home with something. No matter if your parents work in domestic labor jobs where the pay is minimum wage, with hard work, sacrifice, discipline, and dedication it can be done."

Jennifer Rocha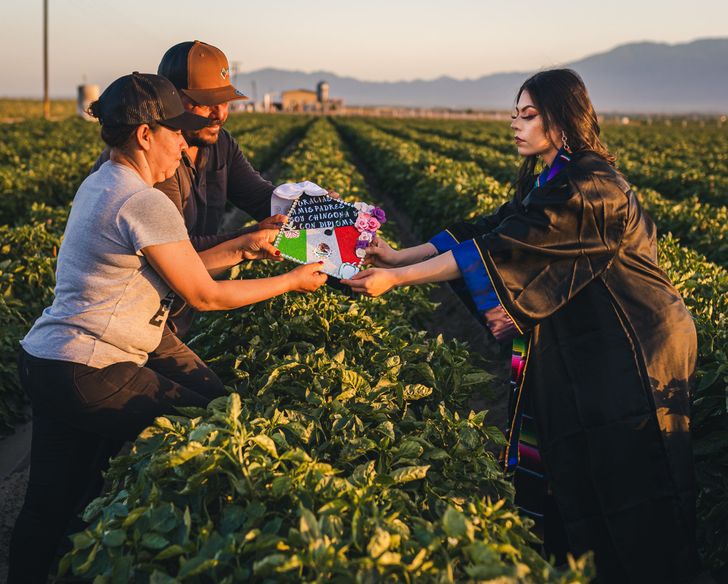 Keep Reading: Teacher gives teen his shoes so he can walk in graduation ceremony
Sources
"California graduate honors immigrant parents with senior photo shoot in strawberry fields." USA Today. June 18, 2021
"A College Grad Honored Her Parents With A Photo Shoot In The Fields Where They Worked." NPR. June 16, 2021